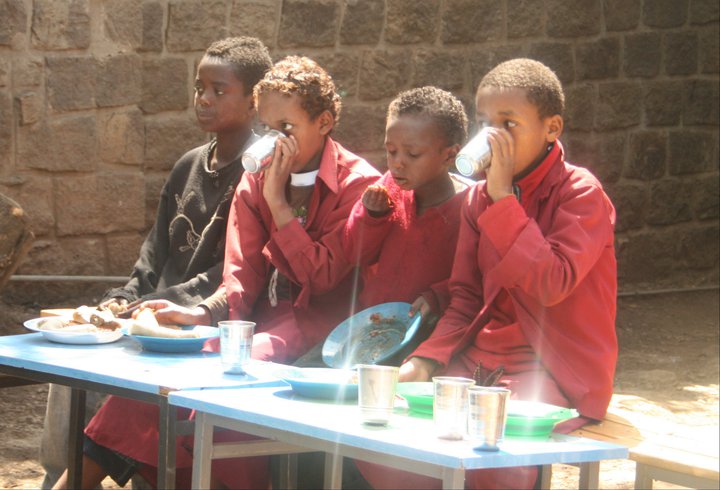 About this Recipe: T'ibs
Ethiopian food is wonderful and easy to prepare!
Most Ethiopian cuisine consists of a spicy vegetable or meat stew served over injera (a wide sourdough flatbread). T'ibs is both an everyday and special dish served in Ethiopian homes and is often served in order "to pay a particular compliment or show especial respect to someone."
3 lbs. of meat (suggestions:  Top Roast, Sirloin Roast, Beef tips or whatever is cheapest )
1 medium red onion
3-4 gloves garlic
Ethiopian berbere
Oil (Vegetable or Canola)
Salt
Injera (preferred)
If injera is not available brown rice is a great substitute
INSTRUCTIONS:
If you are using brown rice, cook according to package instructions.
Cut the meat into medium size chunks.
Place chunks into a large skillet & cook until done.
Take meat out of skillet, drain & set aside.
Place onions in skillet & fill skillet with enough water to cover onions. Cook on high until water has almost evaporated. Pour ¼ to ½ cup oil over onions & cook for approximately 5 minutes. Add berbere according to your taste. (I suggest starting with a small amount & adding more as needed). Add salt according to your taste.
Cook for another 5 minutes, then add the meat that was set aside to the skillet.
Mix well & cook for another 5-10 minutes.
T'ibs is best served with injera. If you have an Ethiopian restaurant near you, pick up some injera for a real cultural experience.
If injera is not available then serve the t'ibs over brown rice.
In Ethiopia, meals are a time of fellowship.
So, in order to enjoy a true Ethiopian meal of T'ibs you MUST make a large amount and invite many friends to enjoy a night of friendship. laughter and delicious  food.
OH, and don't forget the tea & coffee after the meal!
Let us know how the recipe turns out and how your family likes it. Post below and be sure to add a picture.
COUPLE OF THINGS TO NOTE:
The Ethiopian berbere spice can be found at African or India Marts in most major cities so check your local ethnic market for the spice. If you have a local Ethiopian restaurant then most definitely ask your waiter where they purchase their berbere.
You can also Google "berbere spice" and find an online vendor that sales berbere such as www.spicesinc.com
***I bring home berbere from Ethiopia so I cannot personally comment on the quality or authenticity of the berbere sold online.
To learn more about Ethiopian cooking, recipes, or food talk in general from Karyn, follow our blog.